News for Tuesday, December 01, 2015

| More News


Join us as we celebrate this special year of the Pipa Aha Macav "the people who live along the river" by honoring their customs and beliefs, remembering their commitment to their people and lands, and examining their ancient history and how it formed the foundation for what is now the Colorado River Indian Tribes.
We plan to promote the awareness of, and appreciation for the Colorado River Indian Tribes through activities and events all year long!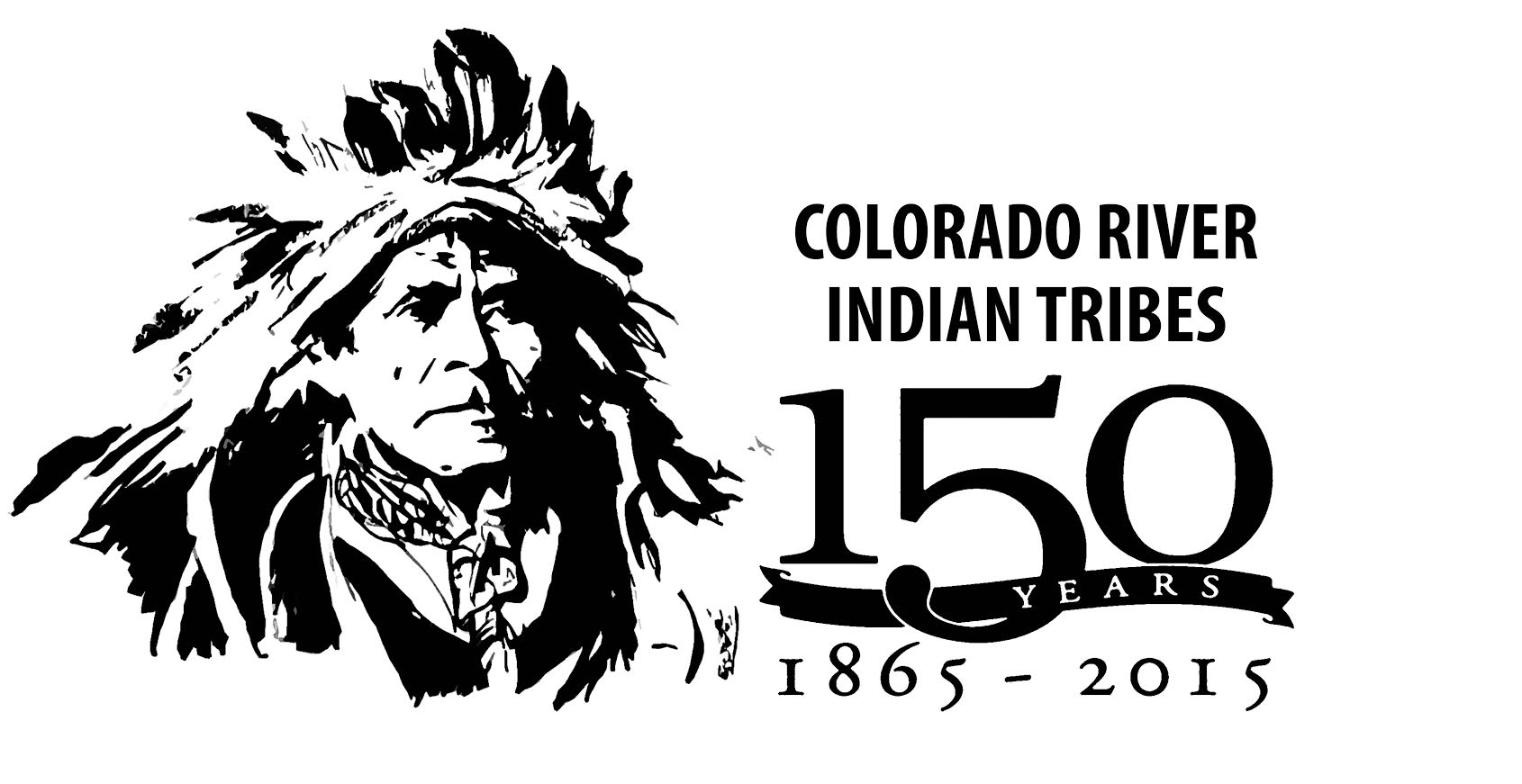 NOTICE OF 2015 TRIBAL DISTRIBUTION

Tribal Council has approved a 2015 Tribal Member Distribution payment of $700.00 for each CRIT Tribal Member. CRIT Tribal members, both minors and those who are over 18 or older and enrolled as of December 1, 2015 are eligible to pick up their check in person on December 10th, 11th, and 12th, 2015 in the Tribal Gymnasium from 8:00 a.m. to 5:00 p.m. If you will be absent or unavailable to pick up your distribution check during the specified dates, your check will also be made available after those dates for personal pick up at the CRIT Accounting department during business hours Monday thru Friday from 9:00 a.m. to 4:00 p.m. Checks are only available for 365 days from December 10, 2015 after which distributions shall be subject to being forfeited. Any request for the 2015 Tribal member Distribution after 365 days shall require approval by Tribal Council.

A Tribal Identification Card or your valid Driver's License will be required as proof of your identity. The Enrollment office will be open for those enrolled tribal members who wish to obtain a Tribal ID. A fee for a duplicate Tribal ID will be charged $12.00. A free Tribal ID is only available if you haven't received the holographic Tribal ID card.

Please submit the 2015 CRIT Tribal Distribution Forms for Adults and Minors to the Enrollment Department. Upon receipt of the original notarized distribution form with your attached documents included, the enrollment department will forward your request to the accounting department for processing. Failure to submit the required documents may further delay your request to receive your distribution check. So, make sure you have all the required documents needed to process your request. For further information call the Enrollment office at (928) 669-1240 and the staff will be happy to assist you with any questions you may have concerning the Tribal Distribution.

The Enrollment office is in need of current addresses for 300 tribal members enrolled with the Colorado River Indian Tribes. We are requesting that ALL enrolled members make contact with our office and verify your current mailing and physical addresses and a contact number for your file record. You may also contact us by e-mail to one (1) of the following staff members: rochelle.booth@crit-nsn.gov; nikari.nez@crit-nsn.gov; elias.ameelyenah@crit-nsn.gov. The 2015 Tribal Distribution letter and forms will be mailed to all enrolled members current addresses. If you do not receive the Distribution letter please notify our office immediately.

The CRIT Accounting department will be responsible for the mailing of the 2015 Tribal Distribution checks for those tribal members requesting to have your check mailed. The Distribution check will be mailed by certified mail. For further details on the mailing dates of the checks please contact the accounting department at (928) 669-1206.

Parents who have children eligible for the 2015 Tribal Distribution must show proof of their child's Tribal Identification card and a birth certificate listing the names of the parent(s). Parents who have custody or placement of the child must provide proof of legal documents to establish that they have custody of said child. Checks will not be issued to the parent if they do not have the care and custody of their children. Guardians and custodians of minors who are not the child's legal parent shall be required to provide legal documentation of their status. Payments for children in the physical care and custody of CRIT Social Services or other state agencies shall be held in a savings account established by CRIT. Tribal Distribution payment is subject to federal income tax and must be reported when applying for benefits, including the distributions to minors, which may require you to file a tax return on behalf of your minor children. Consult a Certified Public Accountant or tax adviser if you have any questions about reporting obligations.

If a Tribal Distribution is approved in 2016 CRIT will apply your Tribal Distribution to any loan in default or other outstanding debt owed to CRIT or its enterprises unless you are complying with payment arrangements or the debt is paid in full. This will be the last year you will receive a Tribal Distribution in full if you are in default on a loan or have other debt outstanding with CRIT or its Enterprises.




Colorado River Indian Tribes

Enrollment Department

26600 Mohave Road

Parker, AZ 85344

(928) 669-1240

Enrollment Staff:

Rochelle Booth, Enrollment Officer; (928) 669-1304

Nikari Nez, Assistant; (928) 669-1241

Elias Ameelyenah, Secretary; (928) 669-1240


__________________________________________



Mr. Kaniatari:io Jesse Gilbert Director of Legal Aid Colorado River Indian Tribes 26600 Mohave Road Parker, AZ 85344 Telephone No.: 928.669.1268 Fax No.: 928.669.5241 E-Mail: Kaniatariio.Gilbert@crit-nsn.gov


-------------------------------------------------------
CONGRATULATIONS TO THE 2015-2016 COLORADO RIVER INDIAN TRIBES ROYALTY COURT


Congratulations to the newly crowned 2015- 2016 Colorado River Indian Tribes Royalty Court: Jr. Miss Sophia Ann Sevada, Miss Hazel Kathleen Flood and Little Miss Zoey Moon Sharp.




Press Release Issued August 11, 2015 from the CRIT Homeland Security Office regarding the Animas River Spill from Gold King Mine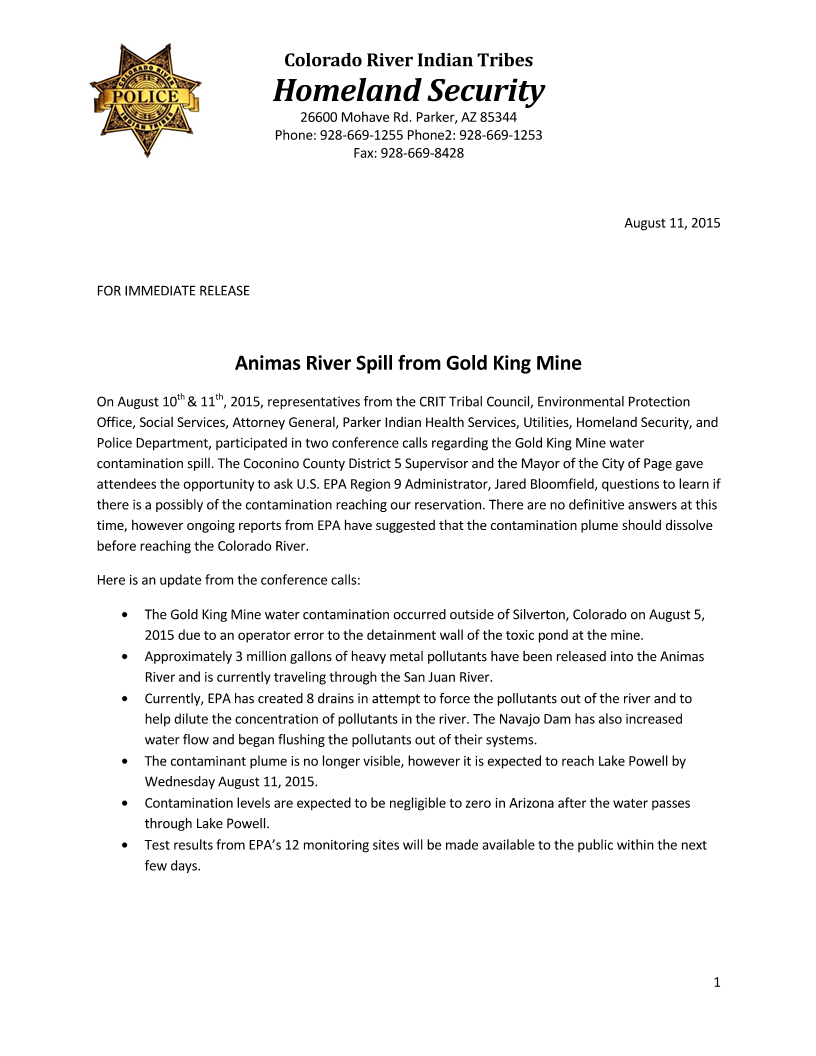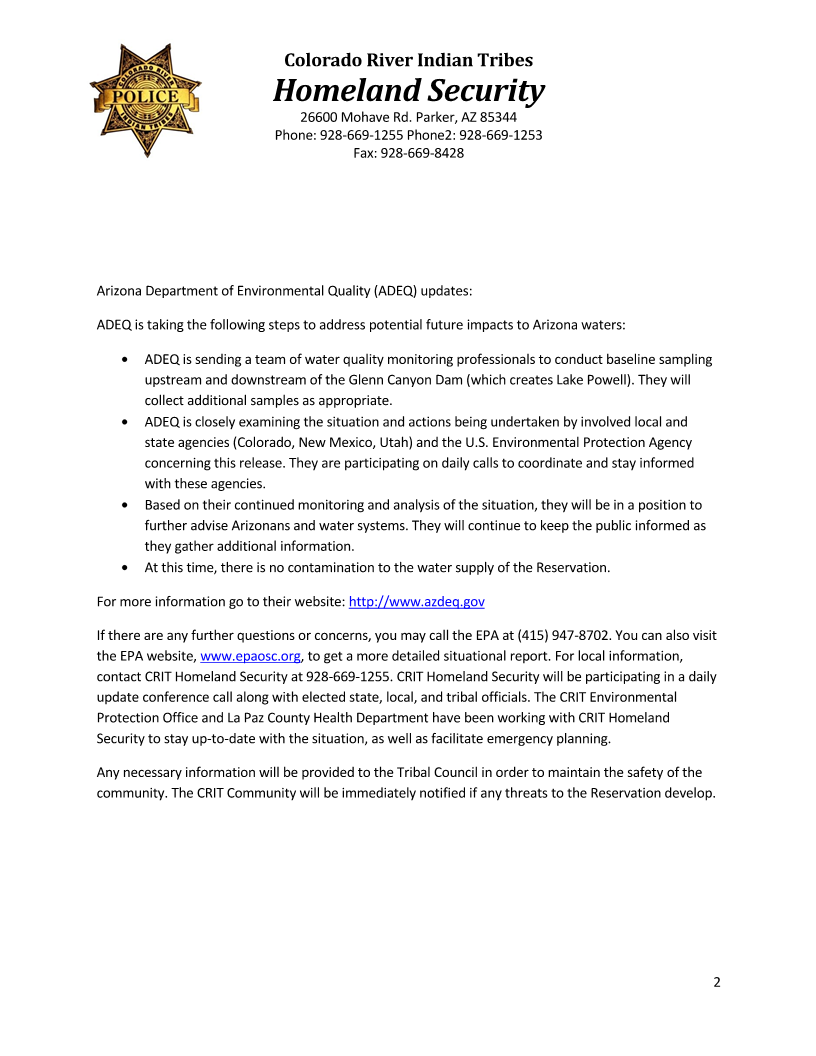 2015-2016 School Grant Application for Tribal Member Students For Questions or Concerns call (928) 669-1220.

---
COLOrado River Indian Tribes Police Department is NOW hiring.
We are offering highly motivated and dedicated individuals an opportunity to either begin their career in law enforcement or transfer here to Parker, Arizona on the beautiful Colorado River. To discuss your possibilities give us a call today!
For more information or questions please contact:
Randy Stewart
Deputy Chief of Police
Phone (928) 669-1318
Fax Number (928) 669-8428
Email Randy.Stewart@crit-nsn.gov

CRIT Law Enforcement Services
c/o RECRUITMENT
26600 Mohave Road
Parker, Arizona 85344
---
---
---
---
---
---
---
---
---
---